St. Tammany Parish Veterans Memorial Plaza
St. Tammany Parish Veterans Memorial
St. Tammany Parish Veterans Memorial
It all began as a vision, a dream to honor St. Tammany's veterans. It began as a group of veterans working together and starting the wheels rolling to fulfill their long sought-after dream: a new memorial to honor all armed forces veterans of the parish. After seeing and receiving approval for the project from St. Tammany Parish President Kevin Davis, it was decided to erect their dream where it would be most conspicuous - on the north side of the New Justice Center in Covington.
In 2001, a parish wide Veterans Committee consisting of all local veterans organizations was formed and the planning begun. An open design competition ensued and, after reviewing many submissions, the Committee selected architectural firm Fauntleroy and Latham's winning design entitled "A Tribute To America's Veterans - Past, Present, and Future".
The design called for a 100 foot wide semi-circle in front of the new courthouse at the intersection of Jefferson and Columbia Streets. Bordering the semi-circle, there are six granite monuments honoring the Army, Navy, Air Force, Marine Corps, Coast Guard, and Merchant Marines. At the top of the semicircle you see an eternal flame and reflecting pool. The pool will border the semicircle, along with the six granite monuments. Personalized, paved bricks will line the pathways to the monuments, each of which will have an American flag flying behind it. A speaker's area, flanked by the American, Louisiana, and "MIA" flags, will be at the bottom center of the semicircle. Inside the semicircle will be two amphitheater-style grassy areas facing the speaker's area. Benches are placed in selected areas throughout the site to allow for meditation or repose. The memorial will be a beautiful, thought-provoking monument to the sacrifices made by our veterans.
If you wish more information on this worthwhile project or wish to become a part of it by making a donation or purchasing a personalized, engraved brick with the name of the veteran you wish to honor, please call 985-898-2513 or 985-646-2090. James W. Fitzmorris of Robert H. Burns Post 16 is the STPVC Chairman and can be reached at the first number listed.



Avoyelles Veterans Monument
AVOYELLES VETERANS MONUMENT
"ALL GAVE SOME; SOME GAVE ALL. IT IS EASY TO TAKE THEM FOR GRANTED. IT IS HARD TO REPAY THEM FOR THEIR SACRIFICES.



At the corner of Highway 107 and Highway 1 is the new Avoyelles Parish Veterans Monument to specifically recognize all active duty military personnel and all veterans. A monument to firefighters and policemen will follow.
It will be the only monument for the name, hometown, rank, time and branch of service of all active duty military personnel and veterans of the parish. Special recognition will be given for those who were drafted for service in the past and for those who volunteer to serve our country today.
It will recognize various wars, conflicts, and September 11, 2001 plus its aftermath. It will especially recognize an Avoyelles High graduate, Sgt. Christopher Ramsey, who was killed in Iraq and others killed in action.
Please submit the names of those you know from Avoyelles Parish who are currently serving in the Armed Forces along with those that have served their country in the past. There will be a required $50 donation used in part for the basic cost of the brick and in part to help families of those affected by the current combat in addition to veterans' causes in general. Construction costs are to be covered by Cottonport Bank.
Contact any Cottonport Bank branch to fill out or drop off an application. You may also contact Kirsten Coco, P.O. Box 5, Marksville, LA 71351, 318-253-9612, ext. 3005, email kirstenc@cottonportbank.com
Also, see The Cottonport Bank website at www.cottonportbank.com




The South Lafourche Veterans Association Memorial
LINTON DOUCET STANDS IN MIDDLE OF THE WALL OF NAMES. 4 PICTURES OF VETERANS ARE ETCHED INSIDE THE GRANITE. THE 3 DIFFERENT POSTS INVOLVED IN THE MONUMENT'S CREATION WERE NAMED AFTER THEM.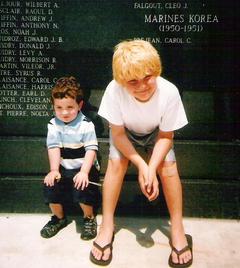 JONATHAN BRUCE & MATTHEW ALARIO, LINTON DOUCET'S GRANDSON AND GREAT GRANDSON.
"A Promise Kept"

On November 15, 2003, the people of South Lafourche invested in our heroes in uniform from the past, present, and future. No one will be left out, we promised our veterans. Today we are taking care of over 50 veterans by bringing them to see their doctors at the VA clinics and hospitals of their choice at no cost to them. They paid their dues already.
Our next promise, a dream now come true, is the Veterans Memorial Monument, considered the largest of its kind in the United States. The Memorial is being built through a tri-post effort consisting of American Legion Post 259 Golden Meadow, American Legion Post 315 Delvin Adams of Galliano, and VFW Post Gros-Guidry 8538 of Larose. Twelve members from the three participating Posts acted as Advisory Board for the project, as well as many others who gave of their time and efforts: Parish Councilmen and President, the late Julien Smith and late Ed Diaz, our District Attorney, the School Board, Port Commissioners, Town of Golden Meadow, the Ambulance District, and Lady of the Sea General Hospital, where we held our meetings.
LINTON AND HELEN DOUCET AND GRANDSON IN FRONT OF MONUMENT
The Veterans Memorial Monument is a beautiful piece of work, now with 3,000 names etched into a wall of black granite. Names will be added as needed to honor those who continue to give the ultimate sacrifice for freedom and their country. This Monument will be one of a kind after our landscape is completed, our flags are up and flying proudly, our sign stands where you enter, water fountains and a reflecting pool exist, etc. This is a gift from the people of South Lafourche and the Veterans Memorial District. August 15th Bill #75 will change some of LA Highway 3235 to Veterans Memorial Highway 3235.
A breakdown of the Monument's statics is as follows: 122 feet in length; 8 inches thick; 8 feet in height.
FOR GOD AND COUNTRY, FROM LINTON DOUCET, A PROUD KOREAN VETERAN AND MEMBER OF THE SOUTH LAFOURCHE VETERANS MEMORIAL DISTRICT......."Freedom is not free"......"When you go home tell them for your tomorrow, we gave our today."

SOUTH LAFOURCHE VETERANS MEMORIAL MONUMENT WALL OF NAMES