News From Nicholson Post 38
National Auxiliary President Visits Post 38
Rita Naverette (New Mexico), the American Legion Auxiliary President for 2009-2010, visited Nicholson Post 38 in Baton Rouge on October 27, 2009 as the guest of the Department of Louisiana Auxiliary. She was present for the Annual Membership Party promoted by the Auxiliary. Auxiliary units turned in 138 new and renewed members during the event.
Photos provided by Gerald Theriot.
Nicholson Post 38 Installs New Officers For 2009-2010
AMERICAN LEGION NICHOLSON POST 38 COMMANDER JOHN E. DEDON, LEFT, POSES WITH STATE COMMANDER KENNETH LAFLEUR AT THE POST'S JULY 6 MEETING.
A new slate of leaders for 2009-2010 was induced recently by Department Commander Kenneth Lafleur. Taking over for longtime Commander Oliver Markland was John E. Dedon. Markland was then tapped to serve as Post Adjutant. Also taking the Oath of Office were Mike Milano, 1st Vice Commander; Guy Lato, 2nd Vice Commander; Kirk Germany, 3rd Vice Commander; Bubbie Messina, Judge Advocate; John Rabalais, Sgt.-at-Arms; Herman Scallan, Chaplain; Anna Sanders and Nick Bravata, Color Guards; and Board Members Mac Hubbs, Vince Misuraca and Eddie Narozniak.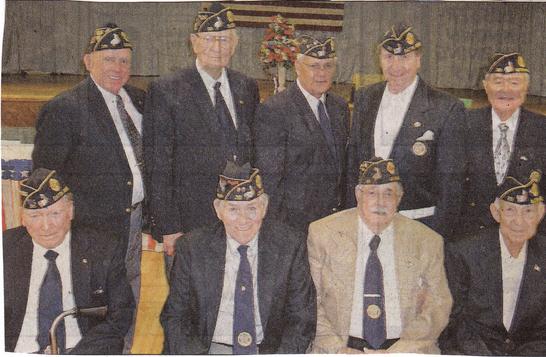 TAKING THE OATH OF OFFICE TO LEAD POST 38 ARE, SEATED FROM LEFT, KIRK GERMANY; BUBBIE MESSINA; MAC HUBBS AND GUY LATO. STANDING, FROM LEFT: HERMAN SCALLAN; OLIVER MARKLAND; JOHN DEDON, MIKE MILANO, AND EDDIE NAROZNIAK.